Call the Rink Office: 215-997-9797
Group Skating Lessons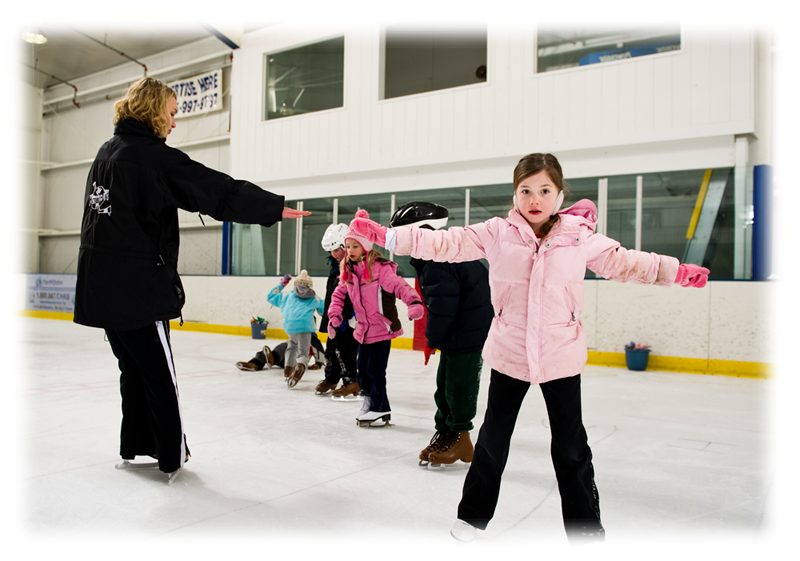 Group Skating Lessons Updates:
Session #4 Group Skating Lessons-NEW
Tuesdays: March 16th-April 27th
Thursdays: March 25th-May 6th
Saturdays: March 27th-May 15th (NO CLASS 4/3)
Sundays at Hockey Heaven: March 14th-May 2nd (NO CLASS 4/4)
Cost: $135.00

Space only available on Saturdays in the following levels: Snowplow Sam 3, Basic 4, Basic 5, Pre-Free Skate, Freeskate 1-6, Hockey 3-5.
To Register Online Follow these steps:
Go to hatfieldice.com

Find the Online Booking tab

Choose Clinics and Public Events

Select Learn to Skate on the left side

Find your skater's level and hit Register

Make sure to create an account with your child's name and birthday
**Skaters must wear masks**
Registration is available in person and ONLINE. If you are using a credit from Session #4 please email a copy of your form to meg261338@aol.com, send the form in the mail to Hatfield Ice, or call Hatfield Ice 215-997-9797. If you do not know your current level it is best to send an email to Megan.
Stay Safe and Healthy Everyone! Please feel free to reach out with any questions at meg261338@aol.com.
Session #5 Group Skating Lessons
5 week Session
Tuesdays: May 18th-June 15th
Thursdays: May 20th-June 17th
Saturdays: May 22nd-June 26th (No class 5/29)
Cost: $90 if signed up by May 16th, $100 after that date
Click HERE to see the brochure and times offered!
Home School Program Session #4
Wednesdays: February 24th-April 7th
Home School Program Session #5
Wednesdays: April 14th-May 26th
Cost: $125 if paid by April 11th! Registrations can be done online or in person! CLICK HERE FOR MORE INFORMATION!
---
ABOUT THE PROGRAM
The Skating School at Hatfield Ice is a member of "Skate with U.S.", the national basic skills program designed by Master group directors and coaches for the United States Figure Skating Association, in affiliation with USA Hockey. This program is a safe, efficient, cost effective and fun way to learn the fundamentals of ice skating.
The Skating School at Hatfield Ice offers basic skills classes all year long. Our highly trained and experienced professional coaches provide a safe, fun, productive and educational atmosphere for all participants.
Snowplow Sam 1-4

Beginning level for children ages 3-5. If your child is 3-5 and has not skated sign them up for Snowplow Sam 1 and then we will adjust accordingly.

Basic 1 and 2
Beginning levels for aged 6 and up. If your child has skated, but this is first time in lessons, sign up for Basic 1 and then we will adjust accordingly.

Basic 3-6
Intermediate levels after passing Basic 1/2
Check Brochure for times!

Pre-FreeSkate
Advanced level after passing Basic 6 (formerly known as Basic 7 & 8)
Check Brochure for times!

Free Skate 1-6
Figure Skating levels after passing Pre-Free Skate
Check Brochure for times!

Hockey 1-5
Hockey levels for skaters who have passed Basic 1 & 2. Helmet & stick required. Check Brochure for times!

Learn to Synchro 1-4
Beginning synchronized skating for skaters in Basic 3 or higher. Currently not in session, but will return soon!

Adult 1-6:
Beginning through intermediate levels for skaters aged 16+
Check Brochure for times!

---
COMMON QUESTIONS

Skate rental IS included in the group lesson program.
What to Bring…What to Wear…
We strongly recommend a bike or hockey helmet, gloves and warm clothing.
FAQ:
Q: My child can skate but has never taken lessons. What do I sign him/her up for?
A: All skaters new to lessons must start in Snowplow Sam 1 (ages 3-5) or Basic 1 (ages 6 and up). All groups are formed based on skater's age and ability level.

Q: What is the Make-Up Policy?
A: There are no make-up classes. If you have any questions or concerns, please email the skating director ONLY at meg261338@aol.com.
Q: I feel my child needs to be moved to another level. How do I know?
A: If there is a child in any of our classes that needs to be moved, the instructor will let the skating director know and we will move the child to the appropriate class. All students are moved at the discretion of the instructor and skating director.
Q: I would like to have more information on private lessons.
A: Private lessons are scheduled through individual instructors and are taught on our freestyle ice sessions. Instructor fees range from coach to coach based on age, teaching experience and skating experience. Lesson fees range from $25 – $40 per half hour. Hatfield Ice charges an ice fee of $5/15 min, $10/30 min, $15/45 min or $20/1 hour. Discount cards are available for 30 minute sessions only. Please call the skating director for more information.

The Best of the Best!
The Skating School at Hatfield Ice recognized by US Figure Skating in SKATING Magazine!
2007-2008
2008-2009
2009-2010
2010-2011
2011-2012
2012-2013
2013-2014
2014-2015
2015-2016
2016-2017
2017-2018
2018-2019
2019-2020